Posted: Tue 21st Sep 2021
The charitable arm of a small community interest company (CIC) has beaten off stiff competition from leading charities to land a national award.
CAFgas charity Nanny Biscuit took top spot in the Covid-19: Best Service Delivery Innovation category at the Third Sector Awards held in London on Friday.
The Nanny Biscuit 2020 Coronavirus Relief Effort was chosen from a shortlist of entries from charities that included Centrepoint, King's College Hospital Charity and the YHA (England and Wales).
The Covid-19: Best Service Delivery Innovation award was one of 15 Excellence Awards handed out at this year's ceremony at the Londoner Hotel in Leicester Square.
Nanny Biscuit was set up in 2018 by gas engineer and CAFgas CIC founder James Hunt, who lives in Deeside.
He began by hosting a small Christmas dinner for people who would otherwise have been alone.
It was part of his vision to help the isolated and increase social awareness and community spirit.
"We don't just work in the community, we work for it," said James.
CAFgas uses the profits it generates from boiler installation, repair and maintenance work to help the communities it works in.
All its profits are channelled into Nanny Biscuit.
The award was presented to a charity 'that delivered a unique and effective service innovation in the face of social distancing rules and increased pandemic demand'.
In March 2020 James and a core team of volunteers realised the impact Covid-19 could have on the vulnerable in the community and set a plan into action.
After a social media shout-out, more than 200 volunteers joined them.
They organised teams who set about providing emergency shopping to those who were lonely, isolated and/or shielding.
They also packed and delivered subsidised food parcels to the vulnerable.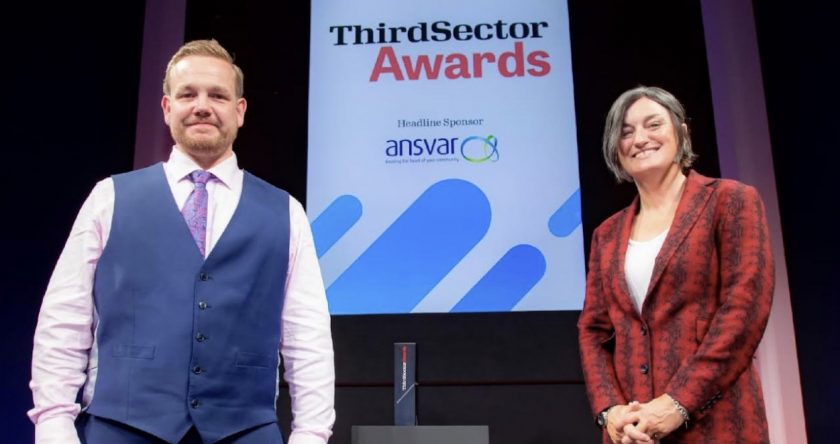 By collaborating and networking with locally-based organisations such as food banks, businesses and social services, Nanny Biscuit delivered more than 44,000 meals to those who needed them most.
Nanny Biscuit and its growing army of volunteers also offered a shopping service as well as a phone buddy and errand service for a vulnerable community.
The judges were impressed by the support the Nanny Biscuit team could give the community through its industry networking.
They said: "Clearly a passionate and creative team who have demonstrated the value of 'knowing your neighbourhood' and, through a strong network and human kindness, have delivered significant community support."
CAFgas and Nanny Biscuit founder, James Hunt, said: "We are overwhelmed to have won this award."
"We really were more than happy to just be mentioned alongside the other charities shortlisted, so to bring it home for the volunteers who have put in such a monumental effort – and continue to do so – is just amazing."
"A heartfelt thank you to all the volunteers, businesses and organisations around Flintshire, Denbighshire, Wrexham and Chester that have been a part of this."
The Third Sector Awards give voluntary organisations, and the people who work for them, the chance to celebrate their work and acknowledge the difference they make to society.
Entrants were judged by an extensive panel made up of representatives from many leading UK charities, chaired by Emma Ratzer, MBE. and Sajda Mughal, OBE.
Get notified about
news from across North Wales
Congestion following earlier vehicle fire on A55 in Flintshire
Flintshire politicians approve extra £500k to alleviate council staffing pressures
Jailed Flint drug dealer ordered to repay nearly £57,000 of ill gotten gains
Plans for weekly nappy collection service in Flintshire approved by senior councillors
Welsh Government pays £7k for Goldie Lookin' Chain song encouraging people to get Covid jab – as part of overall £32k PR bill
Health Board recruiting vaccination staff to support the roll out of the COVID-19 booster programme in region
Welsh Ambulance Service seeking support from the military as pressure increases
Flintshire Council to adopt definitions of anti-Semitism and Islamophobia in a bid to stamp out hatred
Pedestrian suffers 'life threatening' injuries following two-vehicle collision at Flint 'car meet'
Traffic Wales North & Mid #KeepWalesSafe
2 hours ago
#A55 : Westbound : J33B Ewloe (A494) to J31 Caerwys : Congestion : Delays possible : #TrafficWalesAlert
DEESIDE.com
3 hours ago
*All lanes now stopped and queueing traffic due to vehicle fire on A55 North Wales Expressway Westbound between J32 A5026 (Holywell) and J31 A5151 (Caerwys).
Traffic Wales North & Mid #KeepWalesSafe
3 hours ago
🚧A494 Alltami Street Lighting and Cable Refurbishment 27/09 – 10/10🚧 Refurbishment of the street lighting and cables along the A494 Alltami. The work will be carried out using traffic lights as well as stop / go signage. Please see below 👇 (LINK)
ABOUT US
Launched in 2014, Deeside.com is an independent online news and information website.
We serve those towns and villages in Flintshire which lie close to River Dee in North East Wales and the border with neighbouring Chester in England.
Quick Links
Quick Links
Read 424,915 times in last 30 days
*Stats independent & directly measured by Google, via the Analytics Live API.
© Deeside.com Est. 2014