Ireland's National Public Service Media
Meáin Náisiúnta Seirbhíse Poiblí na hÉireann
Western Correspondent
A study commissioned by the European Commission has raised serious concerns about an ESB assessment, regarding environmental directives at a wind farm in south Galway.
The State has now amassed fines of over €15 million as a result of an ongoing failure to ensure proper standards were adhered to in the development at Derrybrien.
The Commission said a failure to address "existing cracks and overall soil stability" around the wind farm must be dealt with, before a ruling from the European Court of Justice is complied with.
Just over a year ago, the ESB submitted an application for Substitute Consent to An Bord Pleanála.
Running to more than 70 pages, the 'Technical Assessment of Derrybrien Windfarm and Ancillary Works' examines the Remedial Environmental Impact Assessment Report submitted to the planning authority.
The EC analysis noted that some of the material submitted was based on data that was at least 15 years old.
The report concluded that further information should be provided before "an informed decision" can be made on the application.
It said more evidence is needed to demonstrate that there will not be a risk of further peat slides when the site is decommissioned in 2040.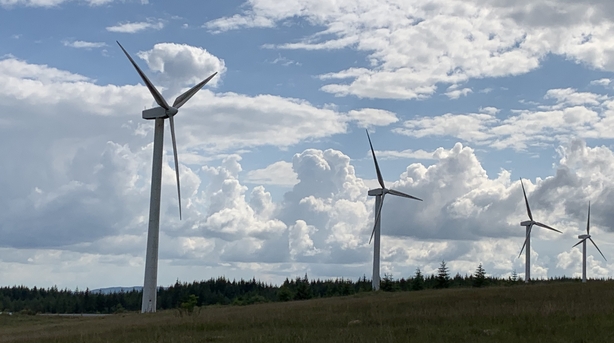 Daily fines of €15,000 have been mounting since November 2019, when the EU Court of Justice ruled against Ireland.
As well as a one-off penalty of €5 million, which was paid in January 2020, a further €10 million is now owed. The fines will continue to accrue until the situation is fully resolved.
The court found that Ireland was in breach of environmental safeguards in relation to the construction of the wind farm, almost 20 years ago.
And it determined that the State had to comply with a 2008 instruction to properly examine the consequences of the development at Derrybrien.
The case centred on longstanding concerns about the impact of the 70 turbine development on the Slieve Aughty mountains.
The wind farm was built and is operated by a subsidiary company owned by the ESB.
A massive landslide occurred during the construction phase in 2003, pushing thousands of cubic metres of peat down the mountain.
In July 2019, Galway County Council told the ESB to seek Substitute Consent – effectively retrospective compliance with the EU Directive on Environmental Impact Assessments.
This can only be granted in exceptional circumstances and means the State has to take measures to ensure the development is subject to robust assessment.
Western Correspondent
© RTÉ 2021. RTÉ.ie is the website of Raidió Teilifís Éireann, Ireland's National Public Service Media. RTÉ is not responsible for the content of external internet sites.