Looking to buy, sell or rent? Find an agent with the right local expertise!
Looking for more exposure? Sign up as a PRO agent for only RM2.19 a day.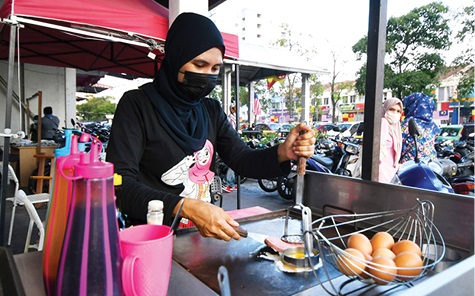 Corporate social responsibility is not just merely to meet the basic governance standards. As a responsible developer and community builder, private companies play an important role in reaching out to those who are in need in the local community and create awareness to bring in others to help those who are in need, says S P Setia Bhd head of group strategy and business development Lindayani Tajudin.
"As such, to play our role as a corporate citizen, S P Setia has always been proactive in empowering the communities that we are a part of.
Read also
Alongside our B40s: You are not alone
Darkened nation brightened by kindness in action
"When the pandemic hit, we were compelled to initiate this Caring Community Campaign to allow ourselves greater latitude in assisting small businesses. They are an essential part of our nation's economy and the effects of the pandemic have been harsh on their businesses," she adds.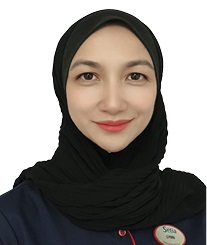 Sharing the same thoughts, EdgeProp.my and S P Setia have initiated a Caring Community Campaign themed "Alongside our B40s".
The campaign is organised by EdgeProp.my and powered by S P Setia, with the objective to lend a helping hand to some B40 F&B small business owners in the Klang Valley and Penang who are in dire needs for urgent assistance.
Each of the 25 selected microenterprises will receive a sponsorship of RM500 to upgrade their businesses, as well as RM300 a month worth of business for six months.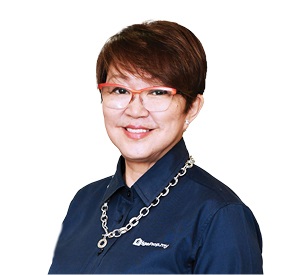 The 13-day public nomination period from Aug 20 attracted a total of 133 nomination submissions. Although the campaign only limited the submissions for small traders in the Klang Valley and Penang, there were some nominations for those in Perak, Pahang and Sabah.
Through this Caring Community Campaign, EdgeProp Malaysia and S P Setia aspire to identify the selected small business owners who are struggling and provide them some resources to pivot back to their feet in a crisis like this.
"Our goal with this campaign is to help selected small businesses by providing some essential resources to enable them to pivot in this crisis. We hope that the businesses will stay resilient post-pandemic and in turn, be able to contribute to our economic sustainability," stresses Lindayani.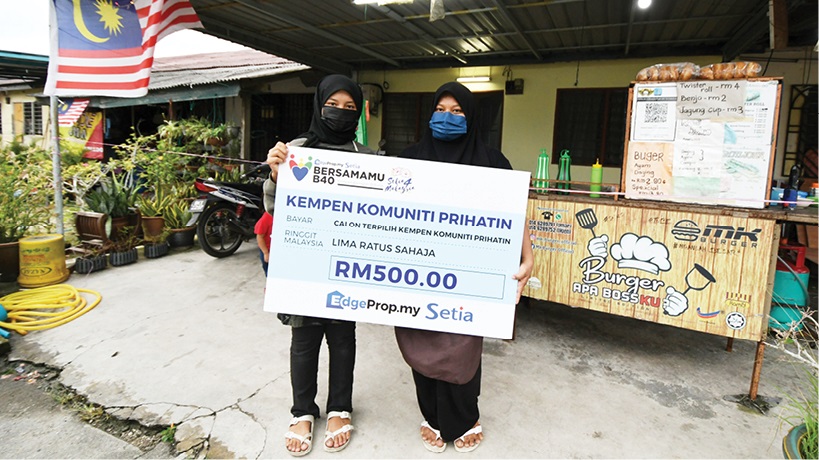 EdgeProp Malaysia Editor-in-Chief and managing director Au Foong Yee says the campaign idea stemmed from the realisation that an untold number of fellow Malaysians have been and are still left reeling from the devastating impact of the coronavirus.
"Young children have been orphaned. Businesses have been badly disrupted or forced to shutter. Families have been torn apart. Hunger, desperation and a loss of the zest for living is also real for some of us who are not so fortunate," she laments.
On a brighter note, Au notes the pandemic has managed to build a strong sense of community and belonging that cut across barriers of ethnic background and beliefs.
Besides the government, corporations and organisations, we have read, seen and heard of heroic deeds by the ordinary Malaysians who have risen to the occasion to extend a helping hand.
However, the cold reality is the level of help is far from sufficient, she observes.
Says Au: "Only a handful of industries have been spared by the Covid-19 pandemic which has crippled not just the lower-income group but also those in the M40 category.
"A case in point: a community organisation in Petaling Jaya's Section 13 is giving away some 800 food packs everyday. Some of those who turn up to collect the packs came in cars while others took the trouble to park their cars down the road before walking to the food distribution point. Why? For fear of being judged.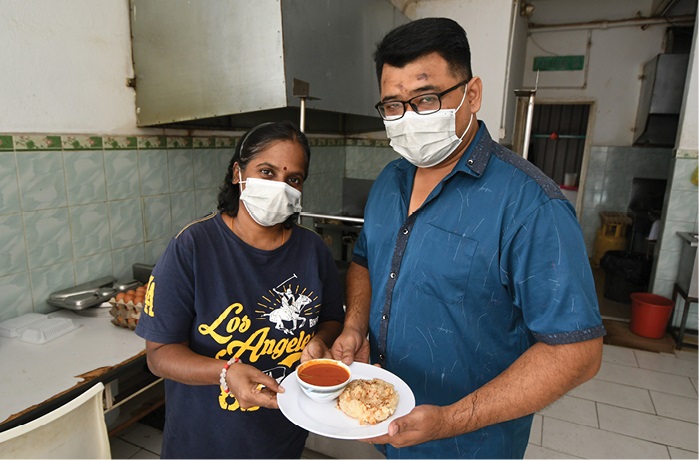 "So, are they being greedy? Of course not! These people are striving desperately to feed themselves and their families."
As the maxim goes, unity is strength. Together, we can achieve more. Hence, the Caring Community Campaign: Alongside our B40s.
Au says the goal is to reassure those less fortunate that they are not alone, that Malaysia and Malaysians are with them to journey through this difficult time.
Besides the sponsorship from the campaign, Au says it is hoped that the publicity of the stalls nominated will help drive traffic and business.
"Indeed, some may say this is so trivial. However, in these difficult times, every little bit of help goes a long way,"stresses Au.
Overwhelming response
To achieve this, the campaign, which kickstarted on Aug 20, 2021, made numerous shout-outs on EdgeProp Malaysia's various social media platforms to call for members of the public to nominate B40 small traders whom they encounter are facing financial difficulties due to the prolonged lockdowns caused by the Covid-19 pandemic.
The public nomination process, which ended on Sept 1, received a total of 133 nomination submissions. It is worth noting that despite the conditions stating that it was only open to nominees located in the Klang Valley and Penang, some nominations located beyond these two states were received from Pahang, Perak and Sabah.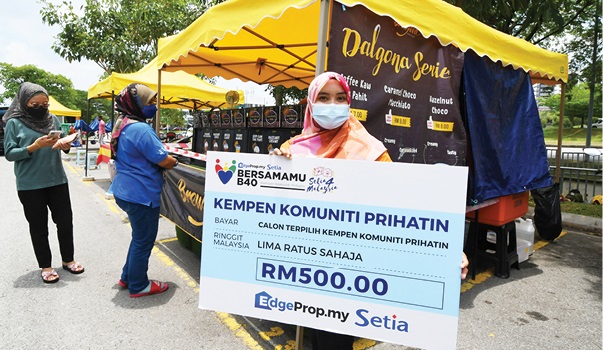 "We are pleased that small business owners saw a value in our efforts and participated in the campaign as our intention is to help them remain relevant and sustainable. The fact that we received nominations from all over Malaysia is testament to the reach of the EdgeProp.my," Lindayani from S P Setia shares.
Nonetheless, there are only 25 nominees who could walk away with the sponsorships.
"We hope that they [those who were not selected] are not disheartened and instead will spur on to continue adding value to their business models, and most importantly, to stay resilient and push on.
"It was not easy to narrow down the nominations. However, we selected the cream of the crop and we did so by selecting the ones with sustainable business plans to move forward even post-pandemic," says Lindayani.
In the selection process, EdgeProp.my and S P Setia have verified the identities of the nominated B40 business owners and interviews have been conducted to make sure that the selected small traders are those who are in urgent need.
Lindayani from S P Setia says the first assistance fund of RM500 will be used to help the selected small traders to procure the necessities for their businesses or help them to do some upgrades to improve their marketing.
Meanwhile, the RM300 assistance fund for six months will be used to help sustain their businesses, where the food purchased will be donated to local charity organisations.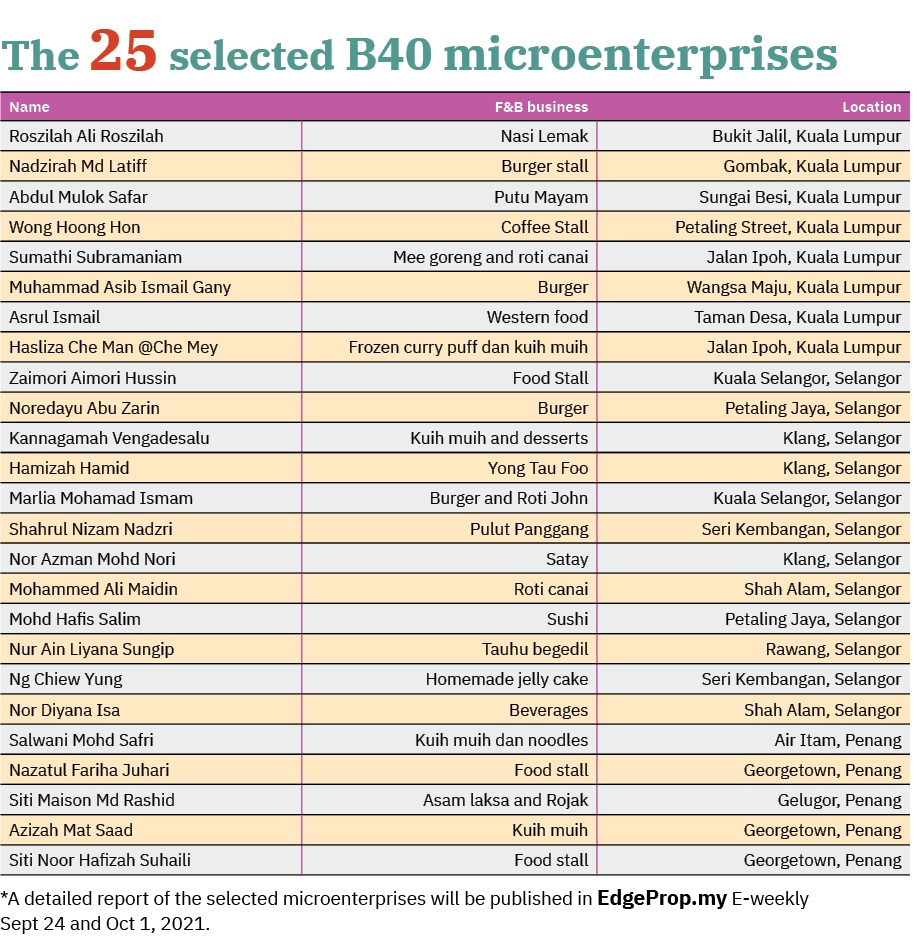 This story first appeared in the EdgeProp.my E-weekly on Sept 17, 2021. You can access back issues here.
Get the latest news @ www.EdgeProp.my
Subscribe to our Telegram channel for the latest stories and updates
Click here for more property stories
Shah Alam, Selangor
Sungai Buloh, Selangor
Klang, Selangor
Shah Alam, Selangor
Sepang, Selangor
Cyberjaya, Selangor
Cyberjaya, Selangor
Taman TTDI Jaya, Selangor
Sungai Buloh, Selangor
USJ, Selangor
Kota Kemuning, Selangor
Kota Kemuning, Selangor
Kota Kemuning, Selangor
Kota Kemuning, Selangor
Kota Kemuning, Selangor
Kota Kemuning, Selangor
Kota Kemuning, Selangor
Kota Kemuning, Selangor
Kota Kemuning, Selangor
Kota Kemuning, Selangor

The only property app you need. More than 200,000
sale/rent listings and daily property news.
EdgeProp.my is Malaysia's most useful property website for home buyers and investors. At EdgeProp.my, you can find daily breaking news on property, and hundreds of thousands of properties for sale and rent with detailed information such as past transacted prices, maps and photos. We offer a full collection of the most popular property types in the market – condominiums and apartments, landed properties, residential land and commercial properties.
Whether you are looking to buy or rent properties, we have the most comprehensive property listings in Malaysia.
Interested in new property launches in Malaysia. Check out our featured new launches by the top property developers in Malaysia.
© Copyright 2021 | EdgeProp.my