Jagatsinghpur: Delay in environmental clearance and execution of lease deeds has allegedly let loose the illegal sand mining at various river ghats in Jagatsinghpur district.
The whopping Rs48 lakh collected as penalty from the errant people is indicative of the extent of illegality in sand mining in the district. But the administration is allegedly sitting idle as sand mafia and some revenue officials have forged an unholy nexus to loot the minor mineral, a report said.
The administration has so far recovered penalties worth Rs 48 lakh from the errant.
In last four months, most sand mines in the district have been auctioned, but public hearings have not been conducted while environmental clearances are still pending.
Taking advantage of the situation, lease holders have been plundering sand even though they are yet to meet all prerequisite formalities for sand mining. The administration was accused of delaying the official formalities to provide window for looters to steal sand.
As a result, the state government is losing crores of rupees as revenue. It is alleged that all such illegalities have been going on due to rackets.
Last year, the administration had leased out 18 sand quarries while this year, 29 sand mines were leased out including  six in Naugaon tehsil, three each in Raghunathpur and Jagatsinghpur, two in Kujang and 10 in Tirtol.
It was learnt that though lease process has been over, the lease holders have not yet signed any agreements with the administration to carry on their work.
As per the rule, public hearing will be held for the mines which are spread over 12 acres or more. The tehsil authorities will have to seek permission of the state Environment Impact Assessment Authority.
Meanwhile, public hearings for six sand mines have been held in Biridi, Raghunathpur and Tirtol.
The delay in completing all official formalities has encouraged the lease holders to loot sand. The illegal mining has gone to such an extent that the revenue authorities have collected Rs 48 lakh as fine from violators in last eight months, it was learnt. As construction activities and infrastructure development projects are in full swing in various parts of the district, sand is in high demand in the area.
It was alleged that the enforcement squads at sub-divisional and district levels have failed to take action against those indulging in illegal sand mining.
Contacted, Jagatsinghpur deputy Collector Ajay Mohanty said that lease deeds are not being executed as environment clearances are pending. However, action will be taken if they are alerted about sand smuggling.
Enter your email to get our daily news in your inbox.
Your email address will not be published. Required fields are marked *





<!–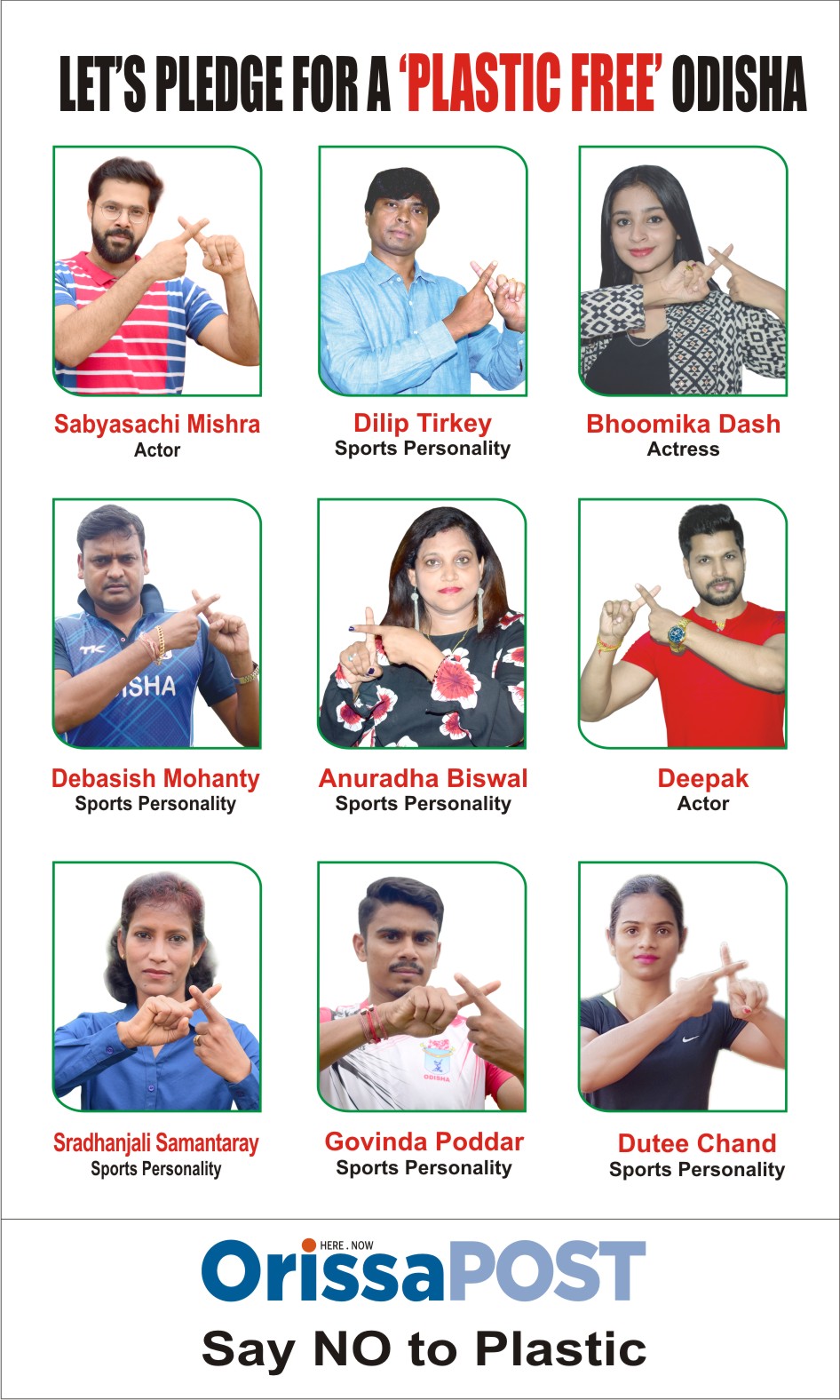 –>Click Here: Plastic Free Odisha
National School students Kujang Jagatsinghpur district support a plastic free Odisha. Do you? *Visit our website orissapost.com. Like,Share,Subscribe,Recommend our Facebook …
IMT Pharmacy College students call for a Plastic Free Odisha. Have You Joined the movement? *Visit our website orissapost.com. Like,Share,Subscribe,Recommend …
Samanta Singhara Nodal High School students of Balia, Jajpur support plastic free Odisha. Do you? *Visit our website orissapost.com. Like,Share,Subscribe,Recommend …
Odisha Rajya Rogi Adhikar Mancha & Mangalabagh International Club Workers support a plastic free Odisha. Do you? *Visit our website …
Balibil Nodal School students support plastic free Odisha. Do you? *Visit our website orissapost.com. Like,Share,Subscribe,Recommend our Facebook Page Orissapost(@OrissaPOST.Here.Now) *Post …
Darsheel Safary calls for a Plastic Free Odisha. Do you support the movement? *Visit our website www.orissapost.com. Like,Share,Subscribe,Recommend our Facebook Page …
Haratiya Bidyaniketan School students of Alipur, Bari support a plastic free Odisha. Do you? *Visit our website orissapost.com. Like,Share,Subscribe,Recommend our …
Actor Sritam Das supports a plastic free Odisha. Do you? *Visit our website orissapost.com. Like,Share,Subscribe,Recommend our Facebook Page Orissapost(@OrissaPOST.Here.Now) *Post …
Unit III Bharat Scouts and Guides team call for a Plastic Free Odisha. Do you support the movement? *Visit our website …
Sri Aurobindo School students & teachers of Sambalpur support plastic free Odisha. Do you? *Visit our website orissapost.com. Like,Share,Subscribe,Recommend our …
Hockey Player Dilip Tirkey supports a Plastic Free Odisha. Do you? *Visit our website orissapost.com. Like,Share,Subscribe,Recommend our Facebook Page Orissapost(@OrissaPOST.Here.Now) …
BJB Autonomous college students support a Plastic Free Odisha. Do you? *Visit our website orissapost.com. Like,Share,Subscribe,Recommend our Facebook Page Orissapost(@OrissaPOST.Here.Now) …
Swaraj Barik calls for a Plastic Free Odisha. Do you support the movement? *Visit our website www.orissapost.com. Like,Share,Subscribe,Recommend our Facebook Page …
Elina Samantray calls for a Plastic Free Odisha. Do you support the movement? *Visit our website www.orissapost.com. Like,Share,Subscribe,Recommend our Facebook Page …
Govinda Poddar, Odisha Ranji Team Captain  calls for a Plastic Free Odisha. Have You Joined the movement? *Visit our website …
Puri SCS College Students support a plastic free odisha. Do you? *Visit our website orissapost.com. Like,Share,Subscribe,Recommend our Facebook Page Orissapost(@OrissaPOST.Here.Now) …
Anubhav Mohanty supports call for a Plastic Free Odisha. Do you support the movement? *Visit our website www.orissapost.com. Like,Share,Subscribe,Recommend our Facebook …
Olympian Dutee Chand calls for a Plastic Free Odisha. Have You Joined the movement? *Visit our website orissapost.com. Like,Share,Subscribe,Recommend our …
Korei college students support plastic free Odisha. Do you? *Visit our website orissapost.com. Like,Share,Subscribe,Recommend our Facebook Page Orissapost(@OrissaPOST.Here.Now) *Post your …
Ratikant Mohapatra support a plastic free odisha. Do you? *Visit our website orissapost.com. Like,Share,Subscribe,Recommend our Facebook Page Orissapost(@OrissaPOST.Here.Now) *Post your …
Bhubaneswar Bar Association Lawyer Liberty Trust supports plastic free Odisha. Do you? *Visit our website orissapost.com. Like,Share,Subscribe,Recommend our Facebook Page …
Cuttack College NCC students support a plastic free Odisha. Do you? *Visit our website orissapost.com. Like,Share,Subscribe,Recommend our Facebook Page Orissapost(@OrissaPOST.Here.Now) …
Gandhi Science Higher Secondary School students of Khandagiri, Bhubaneswar support a plastic free Odisha. Do you? *Visit our website …
Kalamatia Sahid Bidyapitha students support plastic free Odisha. Do you? *Visit our website orissapost.com. Like,Share,Subscribe,Recommend our Facebook Page Orissapost(@OrissaPOST.Here.Now) *Post …
High school students of Sambalpur district support plastic free Odisha. Do you? *Visit our website orissapost.com. Like,Share,Subscribe,Recommend our Facebook Page …
D.A.V Public School Students, support Plastic free Odisha. Do you? *Visit our website orissapost.com. Like,Share,Subscribe,Recommend our Facebook Page Orissapost(@OrissaPOST.Here.Now) *Post …
Scoutmaster, Guide Captains, Rovers, and Rangers of Keonjhar support a plastic free Odisha. Do you? *Visit our website orissapost.com. Like,Share,Subscribe,Recommend …
Actor Bijay Mohanty calls for a Plastic Free Odisha. Have You Joined the movement? *Visit our website orissapost.com. Like,Share,Subscribe,Recommend our …
Cricketer Debashish Mohanty supports  a Plastic Free Odisha. Do you? *Visit our website orissapost.com. Like,Share,Subscribe,Recommend our Facebook Page Orissapost(@OrissaPOST.Here.Now) *Post …
Deepak Kumar support a Plastic Free Odisha. Do you support the movement? *Visit our website orissapost.com. Like,Share,Subscribe,Recommend our Facebook Page …
Bhubaneswar: The Economic Offence Wing (EOW) of the state Crime Branch arrested a former MLA of Visakhapatnam (west) in Andhra…
The surprise announcement by Japanese Prime Minister Yoshihide Suga September 3 that he would step down and would not run…
The stage is set for yet another unseemly duel between the judiciary and the executive over the appointment of judges…
A couple of decades ago, the American musician Ry Cooder visited Cuba. His intent was to revisit the island nation's…
© 2020 All rights Reserved by OrissaPOST
© 2020 All rights Reserved by OrissaPOST